Phone 0161 818 8212 / 07837 905502
steve@absolute-packaging.co.uk Innovation with Simplicity


Home / Services / Corner Board
Corner Board Specification Sheet
• Extruded paper/plastic
• Fully wrapped
• Standard brown
• Exceptional strength (ideal for double/multiple stacking)
• Extruded product has tighter tolerances than paper products
• High moisture resistance (Virtually waterproof).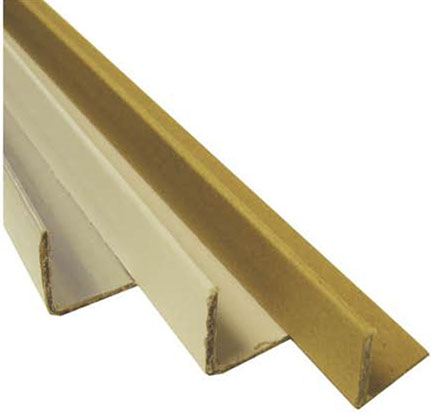 (Leg Measurements taken externally)
2.6/3/4/5/6*
2.6/3/4/5/6*
2.6/3/4/5/6*
2.6/3/4/5/6*
2.6/3/4/5/6*
• Length
• Thickness
• Legs
• Angle
: +/-10 mm
: +/-0.4 mm (Avg of 2 legs) : +/-5 mm
: +/-10'
• ·Note 0.5mm increments on thickness available on some sizes
• · Lengths available 50mm up to 6,000mm
• Other sizes/tolerances/printing on demand.
• Due to recycled material, there may be colour variations on finished product.
• Product can be supplied with hot melt applied
• Sawing to short lengths(+/- 5mm on length)
• Offset leg lengths available
• White wrap available
• Type R- reinforced material available
In association with our manufacturing plants, our objectives are simple, innovation with simplicity. Offering different styles of packaging from plain to full colour. Adhesive tapes printed/plain shrink and bubble wrap with next day delivery from stock to accompany your new packaging.
Absolute Packaging Limited
VAT Number: 124983986
Company Registration Number: 07796161
Phone : 0161 818 8212
07837 905502
Email : steve@absolute-packaging.co.uk

Office : Unit 2 Bird Hall Lane, SK3 0SZ
Terms and Conditions of Sale